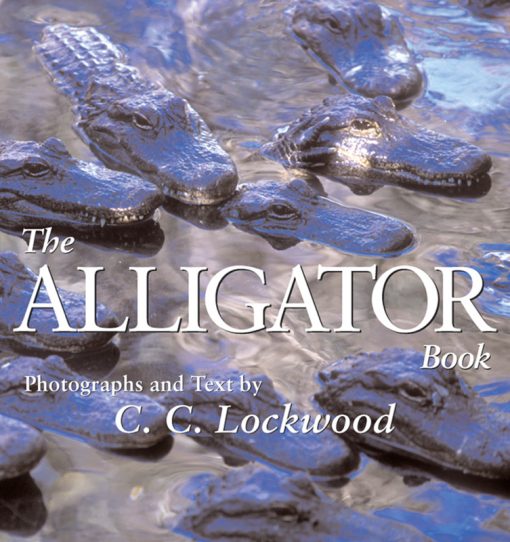 The Alligator Book
"In the production of the Wild America television series, I have been blessed to be able to explore most of our great continent. There are no areas I have found more intriguing than the places where water meets land. My friend C. C. Lockwood documents this habitat better than anyone I know. I am certain that as he turns his attention to the American alligator in this book, C. C.'s words and photographs will stir your emotions and arouse your interest in this unique, prehistoric, and powerful reptile and, in fact, in all of wildlife."—Marty Stouffer
The modern-day American alligator has existed for over two million years, a relic of nature's wildness. This complex creature with a constant crooked grin rules the swamps of the South, forms an integral part of wetland conservation, and thrills tourists to its natural habitat each year. Loved or feared, the alligator attracts the attention of anyone who encounters it. But what do we really know about the fascinating reptile? Renowned wildlife photographer and naturalist C. C. Lockwood devotes himself to uncovering the latest facts about this ancient, dragon-like species in The Alligator Book.
Lockwood traveled the Gulf Coast to study the alligator in its environment, primarily Louisiana and Florida. He also followed biologists through wetland refuges, visited tourist attractions and theme parks, and toured alligator farms and meat processors to create a stunning, definitive photo gallery: newly hatched alligators still bearing an egg tooth; mothers cavorting with their young; nine-foot alligators confronting the camera; and females defending their nests. Lockwood brings us alongside scientists tagging alligators for research, seasoned guides hand-feeding both captive and wild gators, and nuisance trappers pursuing aggressive or displaced ones.
Firsthand tales about alligators from an array of individuals—including victims of attack and a professional gator wrestler—make for lively reading. In addition, Lockwood fills in important details about the creature's diet, growth, reproduction, and taxonomy. He features a family album of related species, leaving no question about how gators differ from crocs. For stouthearted enthusiasts or even the mildly curious, an appendix of alligator zoos and attractions throughout Louisiana and Florida is included.
Contact us for any used copies.