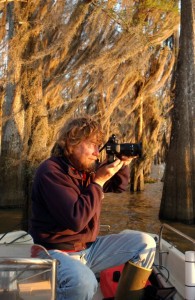 Wildlife photographer C.C. Lockwood has lived and worked in fragile ecosystems whose preservation shapes his artistry. Through words and images, he has captured the unique sense of space in wild places as diverse as Louisiana swampland and the rugged back country of the American West. His work has earned him international acclaim as an environmental artist, including the Sierra Club's Ansel Adams Award for conservation photography. Lockwood's work continues to reflect changes and perils in the natural world. His eleventh book, Marsh Mission, is part of a years-long effort by Lockwood to bring attention to the crisis of vanishing Gulf Coast wetlands. His newest book, 
Louisiana Wild, The Lands Protected and Restored by The Nature Conservancy, 
portrays the good work this organization is doing on over 280,000 acres of land in our state.
C.C. said, "I felt like a kid in a candy store, when I started this project, for I got to visit swamps, lakes, marshes, prairies and oyster reefs form the Arkansas border to the Grand Isle wetlands."
CURRENT
Future projects include books on sunsets, beaches, and dogs. He is also working on a sustainable agriculture project. He will soon produce a digital book on birds for handheld media machines. Most recently C.C. 's iconic image, "Flat Lake Sunset," has been chosen by the USPS to be the official bicentennial stamp.
BOOKS
Louisiana Wild, The Lands Restored and Protected by The Nature Conservancy, LSU Press, 2015
The Oil Flow, an app for iPad, Wind River Creative, 2011
C.C. Lockwood's Atchafalaya, LSU Press, 2007
Atchafalaya Houseboat, photographs by C.C. Lockwood, LSU Press, 2006
Marsh Mission: Capturing the Vanishing Wetlands, with Rhea Gary, LSU Press, 2005
Mike the Tiger, the Roar of LSU, photographs by C.C. Lockwood, 2003
The Alligator Book, LSU Press, 2002
Still Waters: Images, 1971-1999, LSU Press, 2000
Around the Bend: A Mississippi River Adventure, LSU Press, 1998
Beneath the Rim: A Photographic Journey Through the Grand Canyon, LSU Press, 1996
C.C. Lockwood's Louisiana Nature Guide, LSU Press, 1995
The Yucatán Peninsula, LSU Press, 1989
Discovering Louisiana, LSU Press, 1986
The Gulf Coast: Where Land Meets Sea, LSU Press, 1984
Atchafalaya: America's Largest River Basin Swamp, LSU Press, 1981
SELECTED PUBLICATIONS
Smithsonian Magazine, "The Yucatán's Flooded Basement," April 1998
National Geographic Magazine, "Mississippi Delta," August 1983
National Geographic Magazine, "Neshoba County Fair," June 1980
National Geographic Magazine, "Atchafalaya," September 1979
Additional credits in thousands of magazines, books, advertisements and other media
SELECTED LITERARY AND GENERAL AWARDS
Conservation Communicator of the Year, Louisiana Wildlife Federation, 2005
Louisiana Legend Award, Louisiana Public Broadcasting, 2000
Louisiana State University Alumni Association Hall of Distinction, 2006
Notable Book of 1984, American Library Association
Book of the Year, Louisiana Literary Awards, 1981
Sierra Club Ansel Adams Award for Conservation Photography, 1978
EXHIBITS
Marsh Mission, 30 photographs, in collaboration with painter Rhea Gary, 2005
Alligator Exhibit, 40 photographs, 2002
Gulf Coast Exhibit, 25 photographs, 1984
Terrebonne Parish Exhibit, 48 photographs, 1979
Atchafalaya Exhibit, 35 photographs, 1975
FILMS
"Atchafalaya: America's Largest River Basin Swamp," filmed, written and directed by C.C. Lockwood, 1977
Numerous environmental public service announcements
LECTURES
Lockwood is a frequent speaker on wildlife, conservation photography and environmental issues at national, state and local conferences
ORGANIZATIONS
American Society of Media Photographers
North American Nature Photographers Association
Friends of New Orleans, Board Member
Southeastern Outdoor Press Association
Louisiana Press Association
Baton Rouge Audubon Society, co-founder
The Clean Team, co-founder
Nature Conservancy of Louisiana, past board member
Coalition to Restore Coastal Louisiana, past board member
PERSONAL HISTORY
C.C. Lockwood was born in Kansas City, Missouri, in the late 1940's and grew up in Fort Smith, Arkansas, where he graduated from Southside High School. He moved to Louisiana in 1967 to attend Louisiana State University, where he received his B.S. in Finance in 1971. During his early years in Louisiana, he fell in love with the state's swampy backcountry, and he abandoned plans for a career in business as soon as he graduated. He taught himself photography and headed for wild places, determined to make a living capturing images of nature. Much of this time has been on a houseboat.
He has been married to Sue Richardson since 1996.