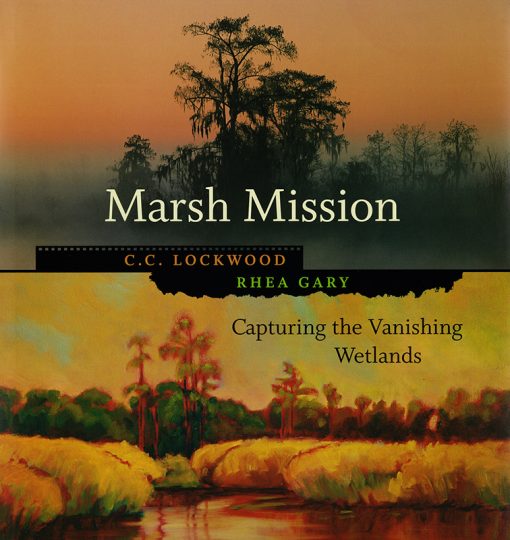 Marsh Mission Book
$39.95
Louisiana is in a desperate battle to save what remains of its coastal wetlands, which are disappearing at the rate of a football field-size area every 38 minutes. Most people are unaware of the devastating transformation of this remote region, though the effects are detrimental for the entire country economically, culturally, and environmentally. Hoping that art will inspire concern where statistics have not, and focusing on the marshlands' beauty rather than their destruction, nature photographer C.C. Lockwood and painter Rhea Gary have joined together in Marsh Mission to show that a picture is worth at least a thousand words. Their rapturous photographs and paintings may well leave one speechless.
For an entire year, C.C. immersed himself in the wetlands, living on a houseboat- The Wetland Wanderer- with his wife, Sue, a schoolteacher, who created an interactive classroom from the boat via the Internet. They covered more than 5,000 miles, taking the pulse of their environs and documenting everything from oil rigs to egrets and vivid setting suns. Rhea sometimes joined the Lockwoods and other times ventured out in her own bateau, designed to hold an easel for making oil-on-paper sketches. She produced the final oil paintings on canvas in her studio.
In his photographs, C.C. captures the quiet, hidden activity of the wetlands in all their paradisiacal aspects. Breathtaking detail- the reward of day-in and day-out vigilance. Rhea conveys her emotional response to the light, color, and mood of the landscape with bold impressionistic strokes in raspberry, tangerine, lime, fuchsia, azure, and yellow. Hot- like the culture and the climate of south Louisiana. Together, the two impart an aesthetic experience that explains better than any map or scientific data the irreplaceable treasure being lost. A narrative by each artist enhances their visual testimony and gives a rare glimpse into the creative process.
Description
MARSH MISSION: CAPTURING THE VANISHING WETLANDS
Cloth – 120 pages – 100 color illustrations